SMS Emden was the second and final member of the Dresden class of light cruisers built for the Imperial German Navy (Kaiserliche Marine). Named for the town of Emden, she was laid down at the Kaiserliche Werft (Imperial Dockyard) in Danzig in 1906. Her hull was launched in May 1908, and completed in July 1909. She had one sister ship, Dresden.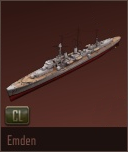 ---
Tier III CL
Required XP to unlock: 639
Price: 775 credits
Durability: 31.977 (with upgrade: 33.977)
Speed: 34.9 knot (with upgrade: 38.4 knot)
Overheat Duration: 4.6 sec
Overheat Cooldown: 11.3 sec
Auto AA Accuracy: 24.4%
Defence level: 2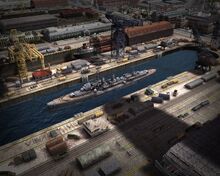 Equipment Edit
---
Main battery: (1x 5.9" /45 SK L/45) x8 Edit
4 turret guns front / 4 turret guns back
Shots: 720
HE damage: 695
AP damage: 1075
Secondary battery: (1x 4.1" /45 SK C/32) x3 Edit
1 turret gun left-side / 1 turret gun right-side / 1 turret gun center
Shots: 600
HE damage: 536
AA damage: 161
Torpedo launcher: (3x 21") x2 Edit
Mine: (3x EMA) x1 Edit
Base Occupation Edit
Ad blocker interference detected!
Wikia is a free-to-use site that makes money from advertising. We have a modified experience for viewers using ad blockers

Wikia is not accessible if you've made further modifications. Remove the custom ad blocker rule(s) and the page will load as expected.