The Bayern class was a class of four super-dreadnought battleships built by the German Kaiserliche Marine (Imperial Navy). The class comprised Bayern, Baden, Sachsen, and Württemberg. Construction started on the ships shortly before World War I; Baden was laid down in 1913, Bayern and Sachsen followed in 1914, and Württemberg, the final ship, was laid down in 1915. Only Baden and Bayern were completed, due to shipbuilding priorities changing as the war dragged on. It was determined that U-boats were more valuable to the war effort, and so work on new battleships was slowed and ultimately stopped altogether. As a result, Bayern and Baden were the last German battleships completed by the Kaiserliche Marine.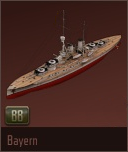 ---
Tier VIII BB
Required XP to unlock: 50.157
Price: 210.500 credits
Durability: 75.460 (with upgrade: 82.460)
Speed: 26.1 knot (with upgrade: 28.7 knot)
Overheat Duration: 2.6 sec
Overheat Cooldown: 12 sec
Auto AA Accuracy: 38.5%
Defence level: 3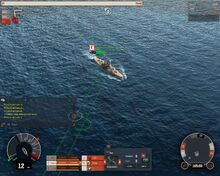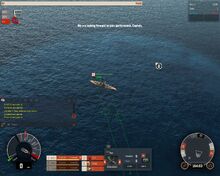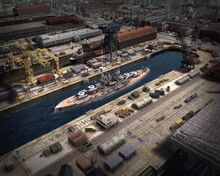 Equipment Edit
---
Main battery: (2x 14.96" /45 SK L/45) x4 Edit
2 turret guns front / 2 turret guns back
Reload time: 15.11 sec (with upgrade: 14.39)
Range: 2259 m
Shots: 280 (with upgrade: 340)
HE damage: 4450
AP damage: 5340
Max angle: 40 degrees
Secondary battery: (1x 5.9" /40 SK L/40) x16 Edit
8 turret guns left-side / 8 turret guns right-side
Reload time: 5.03 sec (with upgrade: 4.79)
Range: 1701 m
Shots: 1440
HE damage: 999
AP damage: 1199
Max angle: 30 degrees
Anti aircraft: (1x 4.1" /65 SK C/33) x8 Edit
Shots: 1600
AA damage: 198
Base Occupation Edit
Aircraft: R
---
Compared to other high tier BBs, Bayern is relatively small.
Due to secondary battery's nasty angles, when engaged in a close range fight, you have to align your ship with the enemy to shot both front and back turret guns.
Main battery has bad spread at long range.